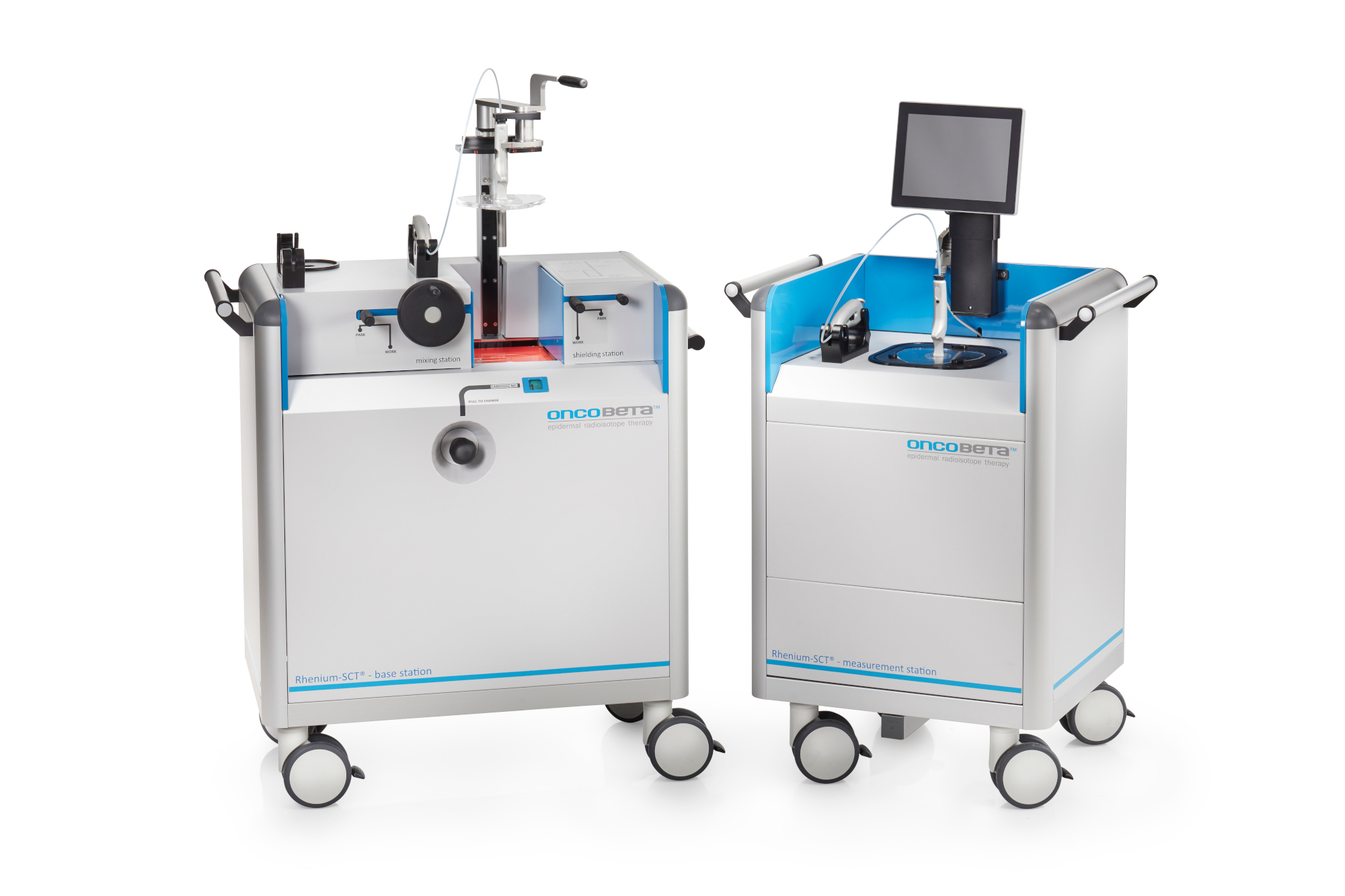 The Rhenium–SCT® (Skin Cancer Therapy) devices are designed to provide healthcare professionals and their patients a safe, effective, painless and non-invasive alternative to surgery. The devices deliver a practical and clever solution for treating non–melanoma skin cancers, featuring the optimal size and portability to be used in the clinic where needed. OncoBeta® offers an optimal combination of highly developed equipment to deliver a precise dose of radiation to the area needed to treat.
The Oncobeta® Applicator is a specially designed application device which enables the clinician to apply the Rhenium-SCT® compound in a homogenic manner to the area needed to treat. The specially designed shielding of the Applicator consists of ideal materials for protection which has gone through numerous and extensive testing. The Oncobeta® Applicator is significantly designed to protect both the clinician and patient.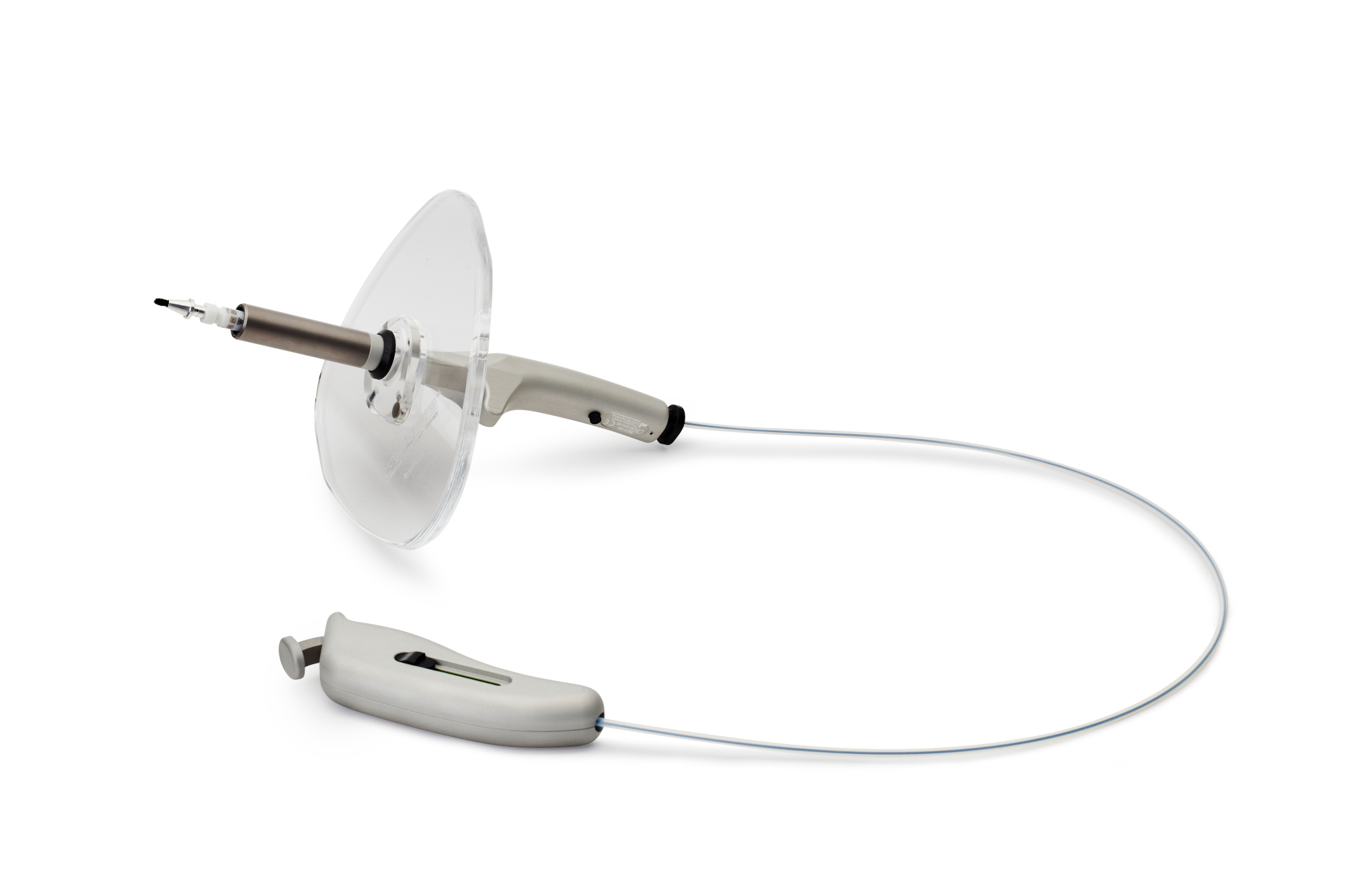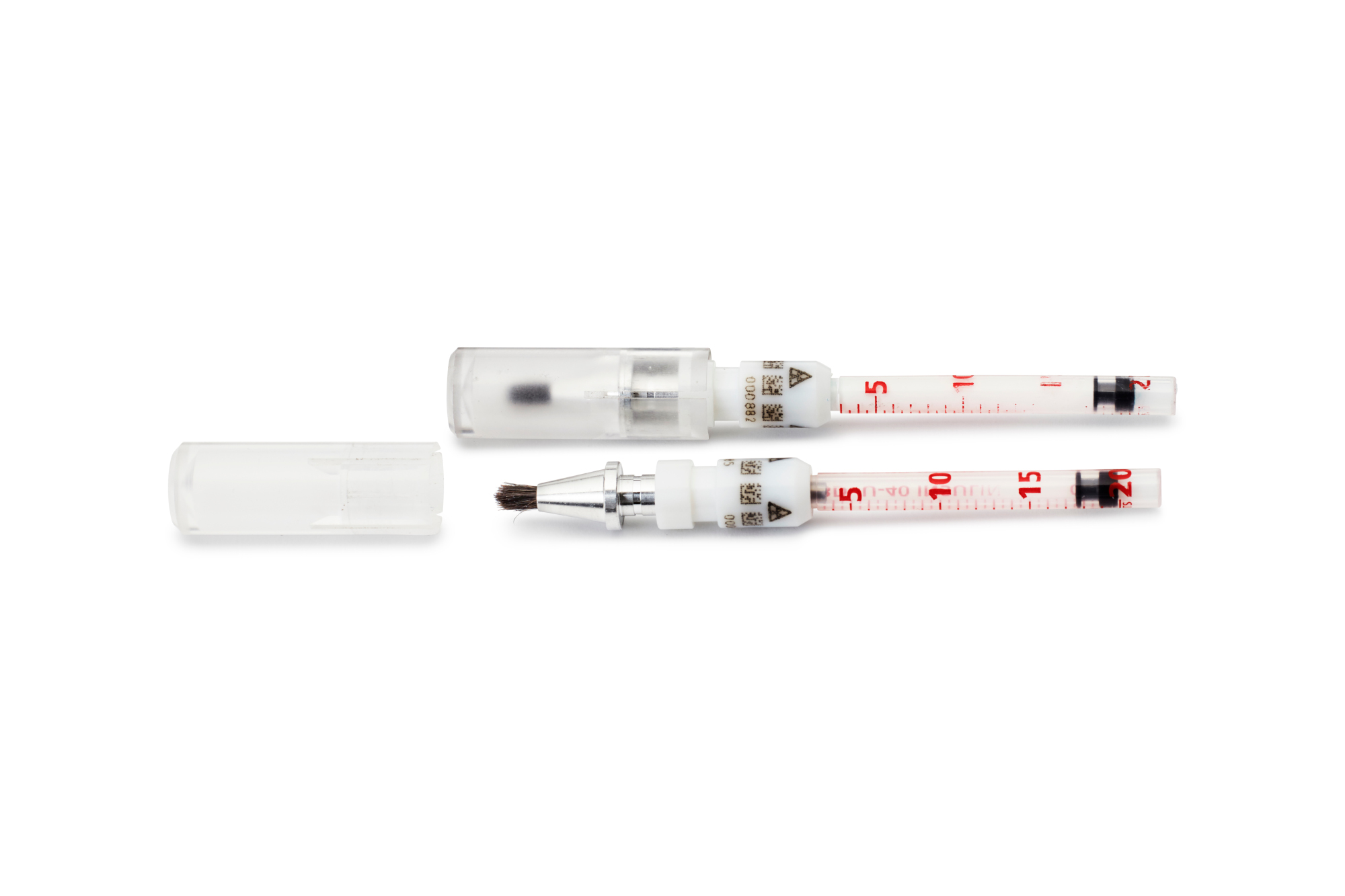 The OncoBeta® Carpoule is a patented system that holds the Rhenium-188 compound. It is engineered to ensure safety, convenience and quality control. The Carpoules include a specially designed brush for the precise application of the compound once loaded in to the Applicator and subsequently activated. The activation acts as a security mechanism preventing the radioactive material from being spread out until its use. A custom-made Transport Unit, which consists of a cylindrical metallic container surrounded by the required lead protection, is specifically conceived to transport the Carpoules and therefore to travel between clinics implementing the Rhenium-SCT® and production facilities. To safely transport the Transport Unit, it is placed inside an appropriate Logistic Unit certified as a type A container for radioactive material according to ADR, fulfilling both all requirements of radiation safety and enabling a simple and low-cost transport.
The OncoBeta® Base Station is used to safely load and further process the Transport Unit containing up to five Carpoules of the OncoBeta® Rhenium-188 compound. The Carpoules are placed in 5 defined positions within the Transport Unit. The Base Station is used together with the Applicator to select each of them explicitly. The OncoBeta® Base Station also includes a Mixing Station that allows for the homogenization mixture of the compound in the selected Carpoule immediately before its application. Furthermore, the integrated Shielding Station ensures a maximum level of radiation protection.
The specially constructed applicator arm enables the user to precisely guide the Applicator during the loading process in a predefined user-friendly manner. During the loading process the targeted Carpoule is safely loaded in to the Applicator. The activation of the Carpoule is consequently carried out with the Base Station directly before therapy begin.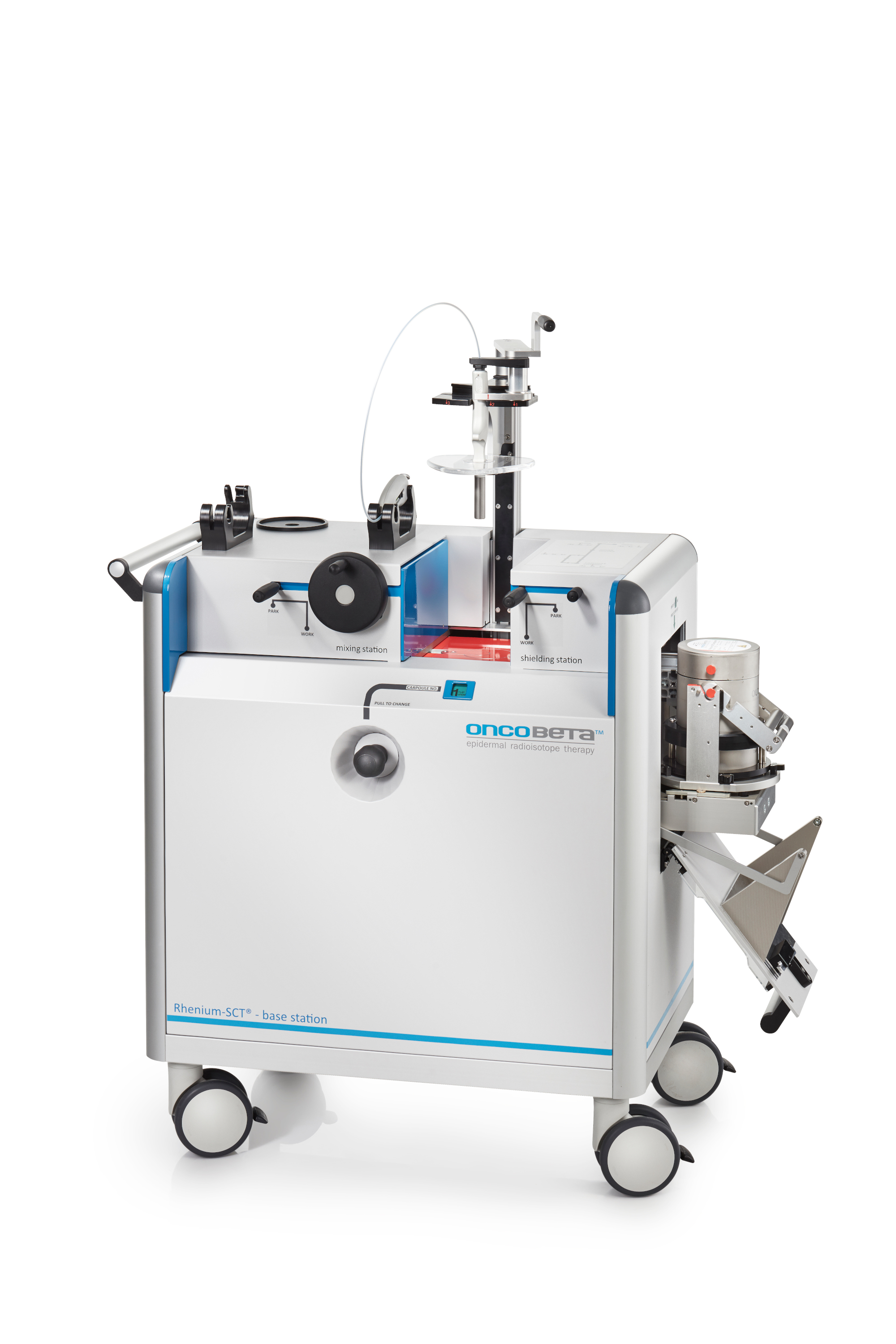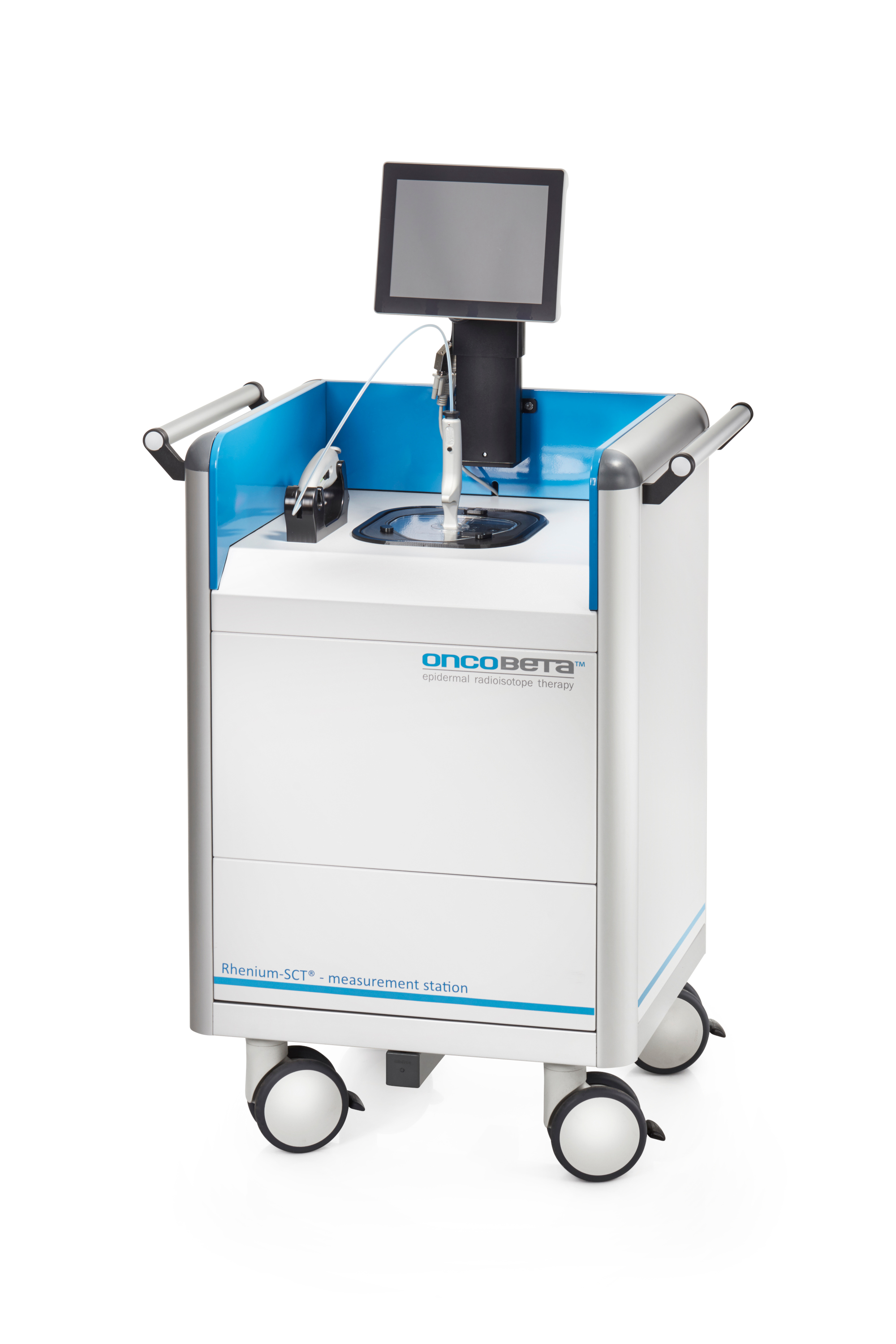 The OncoBeta® Measurement Station is a portable dose calibrator equipped with additional shielding to better protect its user during the measurement process. The loaded Applicator is then simply inserted in to the Dose Calibrator for measurement. The software automatically measures the current activity of the Carpoule with the possibility to store data for future use. The user may access the data at any time for documentation and printing.